by Judy Jacobs  
para TravelMarket Report
The LGBT travel market is strong and growing stronger. Demographic changes, marriage equality and a wider acceptance of gays and lesbians all add up to increased opportunities for travel agents and suppliers.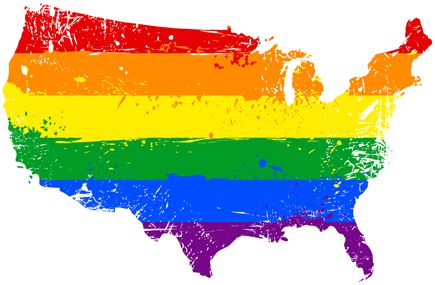 "When we looked at all the studies combined, 5% of the U.S. population self-identifies as being gay or lesbian – and they're probably making up 7% to 8% of the overall travel spending in the U.S.," said David Paisley, senior research director of Community Marketing & Insights (CMI), which publishes the Annual LGBT Travel Study.
Family-friendly matters
It's important for agents to understand that the LGBT market is changing, Paisley said. One key change – it's moving from a dual-income-no-kid market to the family segment.
"With same sex couples who have kids, it's about budget and family friendly," said Paisley.
Suppliers have taken notice. One major development is that Disney has been really active, as has Orlando, in attracting LGBT family travelers, he said.
Multiple markets
Agents should also remember that the LGBT market is not one monolithic market.
"You're talking about multiple markets that include women and African Americans," said Jeff Guaracino, chief communications and strategy officer for the Atlantic City Alliance and author of the book, Gay and Lesbian Tourism: The Essential Guide for Marketing (Routledge, 2011).
"The younger demographic is very different than those 30 and above. They're highly wired. They're highly connected, and they're big word of mouth folks. So it's a bit easier to really make a splash. The boomer market responds differently to marketing techniques," said Guaracino.
Supplier outreach
In recent years, companies and destinations have increased their efforts to attract LGBT travelers.
"It used to be only the boutique brands like W and Kimpton that reached out to the market. Now some of the bigger groups are reaching out," said Paisley. These include Hilton and Marriott.
Similarly, whereas previously only big tourism bureaus paid attention to the LGBT market, now smaller destinations, like Louisville, Ky.; Rochester, N.Y.; Laguna Beach, Calif., and Door County Wisc., are taking action to attract gay and lesbian travelers.
Globally, "Brazil has been hot and continues to be. Spain is very large. Madrid now hosts the largest Pride event in Europe each year," said John Tanzella, president and CEO of the International Gay & Lesbian Travel Association.
"Asia has become every popular. Thailand for the past couple of years has been aggressively marketing to the LGBT traveler," Tanzella said.
Think beyond cruise
Cruise lines have always been big players in this market, but this too is evolving.
LGBT charters like those offered by Olivia and Atlantis have been on the scene for years. Now major cruise lines are getting into the act. Savvy agents are booking blocks of cabins and selling them as an LGBT cruise within a cruise.
Motorcoach tours may be one of the last frontiers for the LGBT market. "We did a little research and found that gays and lesbians are not attracted to doing motorcoach tours because they think they won't be welcome," said Paisley.
For agents, that indicates they should consider putting groups together for motorcoach tours.
Keep current
Agents need to do their homework about the LGBT market, experts suggested.
"Identify the product that would be of interest to [LGBT travelers]. Don't make assumptions. There's a lot of opportunity, especially in multigenerational travel and mixed group travel," said Guracino.
In addition, agents should read up on states that have marriage equality, as well as those who have passed anti-gay measures.
"This market is very aware of where they're welcome and where they're not. And it has the economic clout to vote with their feet," said Richard Cutting-Miller, executive vice president of Resonance Consulting in Vancouver, B.C.
Fuente: TravelMarket Report  :: This is part one in a series.